CEMS Snow Days
1st December 2017

-

4th December 2017

329€
Event Navigation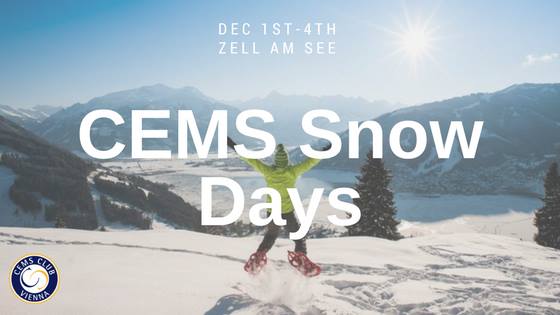 *Exclusive Event for CEMS Students*
The CEMS Club Vienna is happy to invite you to our first annual CEMS Snow Days trip. Join us for an unforgettable weekend in one of Austria's best ski resorts – Zell am See!
CEMS Snow Days is a truly unique trip, since it is meant to be done in cooperation with other CEMS clubs. CEMSies from all parts of the world are encouraged to participate and join us in Austria! Thus, CEMS Snow Days offers an exceptional opportunity to network and get to know fellow CEMSies from across the globe!
We plan to arrive in Zell am See on Friday, just in time for a relaxing afternoon walk throughout the cosy Alpine town and around the beautiful Lake Zell. After dinner we will kick off the weekend with some Welcome Drinks.
From Saturday through Monday we will enjoy a lavish breakfast buffet before hitting up the snowy slopes. However, if you are not really into winter sports, you can always join for some après-ski drinks, walk around the scenic Lake Zell, visit the traditional Christmas market, spend a day at the thermal spa and make trips to some of the numerous sightseeing locations in the area. Last but not least, regardless whether you will hit the slopes or not, everyone will take part of our Winter Olympics. The competition will include a number of winter-related activities (e.g. snowman building) and will facilitate a real bonding experience!
ACCOMMODATION: Jugend Hotel Zell am See
PACKAGES WITH TRANSPORTATION (from Vienna)
The Full Package: 329€ (incl. 3-day ski pass)
The Leisure Package: 199€ (excl. ski pass)
Includes: accommodation, breakfast and dinner, transport to and from Zell am See
PACKAGES WITHOUT TRANSPORTATION:
The Full Package without transportation: 259€ (incl. 3-day ski pass; excl. transportation)
The Leisure Package without transportation: 129€ (excl. ski pass and transportation)
Includes: accommodation, breakfast and dinner
REGISTRATION: https://goo.gl/forms/9YX5MpiafU41FBHj1
DEADLINE: 23:59h, Saturday, Oct 28th, 2017 (registration & payment)
After filling out the form you will receive an email with the payment details.
Only after we've received your payment your place is guaranteed!
If you do not have your sports equipment with you, this shouldn't stop you! The CCV has negotiated an excellent price for rentals.
Ski/Snowboard rental: 45€ (for 3 days and includes ski/snowboard, boots, poles)
For questions and inquiries, please, contact Iwona Gryniuk at paneuropean.cemsvienna@gmail.com!
Make sure that you register quickly, since the number of places is limited!
Let's take over Zell am See, meet some fellow CEMSies from across Europe and have one last relaxing weekend before the finals hijack our lives!
Yours truly,
The CCV Team